When you optimize a website for large keyword sets, extracting the SEO value out of tens of metrics and explaining the benefits to your clients can prove to be difficult.
This is where the reporting system in AWR Cloud comes in handy. Our latest update focuses almost entirely on improving reports, giving you better control over charts and data refining.
Let's take a quick look at what's new:
1. Enrich the graphic side of your SEO reports
You can now select the specific evolution in time charts that will be included in your PDF and HTML reports. This is easily achieved by editing the reports you are interested in, from the Reports -> Edit Reports menu.
This enhancement is available for the following report sections:
Here, you can choose from four comprehensive charts that display rankings or Google Webmaster Tools data. You can see how each chart will look like in your report by hovering with the mouse over the info icons.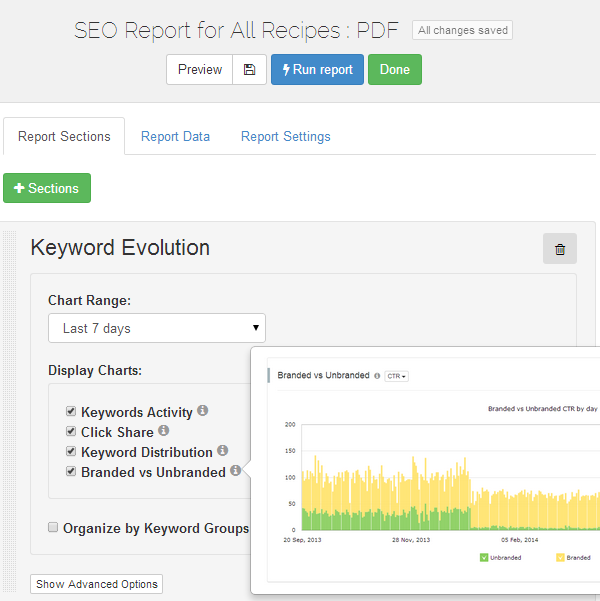 If you are managing your keywords by groups, you can also organize the data from the Keyword Evolution charts by groups and search engines. When this option is selected, the report will also include separate charts for each keyword group & search engine combination available in your AWR Cloud project, or only those you have selected in the Report Data tab.
Here is an example using the Click Share chart, that shows you the estimated visits and the estimated number of clicks that you and your competitors might get from Google organic search, based on your keyword ranking positions:
Following our latest improvements, you have the possibility to include in the Visibility section of the reports only the search ranking metrics that matter most to you and your clients.
For example, if you want to show your client the evolution of keyword rankings that moved up compared to those that moved down during the last month, you can select only these two metrics in the report editor and set the chart rage to cover the last 30 days.
The Visibility charts in your PDF report would look like this:
 2. Show visibility trends for specific search markets
Starting with the new version, you can focus your ranking visibility metrics in a report only on the search engines and keyword groups selected. You can refine the information from the Report Data tab in the report editor:
Here is an example where all visibility metrics are calculated for a particular search engine and keyword group:
3. Compare rankings for more search engines or competitors side by side
We increased to 10 the number of columns that you can display side by side in the PDF reports. To see how it looks like, just create a new PDF report from Reports -> Edit Reports  and select the Landscape orientation.
This enhancement is available for the Search Engine Comparison and Website Comparison report sections.
Here is an example where ranking positions are compared for 2 competitors and 5 search engines side by side:
4. Send automatic reports to multiple users
Now you can send a scheduled report to multiple clients added as users in AWR Cloud. Just add their emails from the Report Settings tab, and all of them will receive the report automatically on the selected frequency.
What else is new:
Bulk actions for managing projects a lot easier
You can now tag or delete multiple projects at once straight from the Websites screen. To do this, just select the projects you are interested in, click on the Manage Websites button that enables you to choose one of the available actions: Add tag or Delete websites.
Date when keywords and search engines were added to a project
This new update introduces the Added on column, which shows you the date when you started to monitor each keyword and search engine in your project. The column is available in the Keywords and Search Engines screens from the Settings -> Website Settings menu.
Allow / disallow access to your account resources for team members
You can now prevent specific team members in your AWR Cloud account from managing the keywords and search engines in the projects assigned to them, and thus from increasing your resources usage. This is achieved by using the disallow resources handling action in the Users screen.
Conclusion
That's about it for now. I hope the new report customization options and project management improvements take us one step closer to making your life easier!
Feel free to share your thoughts about AWR Cloud in the comments section below. If you haven't tried it yet, Sign up for a 30 day Free Trial and tell us what you think.