Building and measuring the engagement of your customers and supporters is key to getting better marketing results.
As part of our efforts to make your SEO work more efficient, we're happy to introduce the new Social dashboard in AWR Cloud, which provides great insights about your website and live stats for your social media engagement activity.
Here's what you'll find inside:
Monitoring social shares
Now you can easily keep an eye on the exposure of your website and your competitors on the top 5 Social media platforms.
The Activity section of the new Social dashboard shows you a chart with the evolution in time of the social shares received by all the domains you are tracking in a project. This way, it is very easy to keep an eye on the progress of your social media exposure, and compare it to your competition on a daily basis.
Below the chart, you will find the Shares section which shows you the number of social shares that your website's index page (or the specific URL that you are tracking) currently has on Facebook, Twitter, Google+, Linkedin and Pinterest.
These stats are updated on a daily basis, comparing the current number of shares to the values recorded on the previous period selected in the screen.
Measuring Twitter and Facebook engagement
You can now track your performance on Twitter and Facebook by connecting your accounts with AWR Cloud. This is easily achieved from the Social dashboard, or from the Settings – Website settings – Social menu. Once you connect your Twitter and Facebook accounts, you'll be able to see the social stats updated live, each time you access the Social dashboard.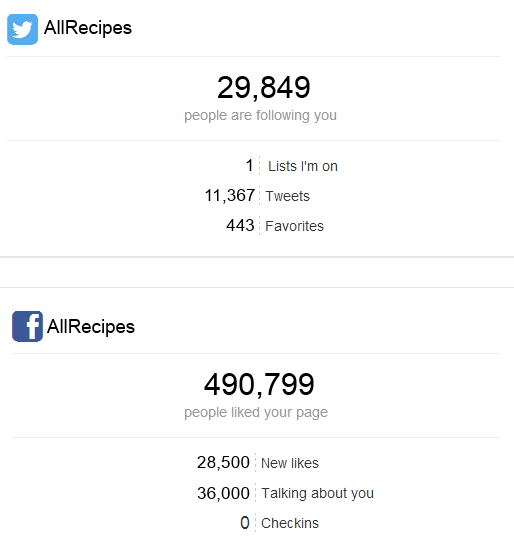 You can connect AWR Cloud to as many Twitter accounts as you need, and select the relevant one in each project you are monitoring. When it comes to Facebook stats, you can connect only one profile to your AWR Cloud account and then select the page you want to track in each project.
If you need to switch to another Facebook page, or to disconnect an account from AWR Cloud, you can easily to this from the Settings – Website settings – Social menu by clicking on the Disconnect button.
More social enhancements are to come in our next versions. In the meantime, here are some other improvements we have added to AWR Cloud:
What else is new
Compare with previous period in Analytics
You can now compare the evolution in time of your visits to a previous period. This is achieved in the Dashboard – Analytics screen by clicking on the Compare with previous period button.
New filters
In this release, we included new filters to help you manage large sets of data easier. The new filters are available in:
1. Reports – Report history. Here you have three new reporting filters which allow you to select all reports generated and shared online, new reports which have not been read yet and reports which need your approval to be further made available to your recipients.
2. Rankings – Website Ranking and Keyword Ranking. These views now include two new filters: Second Page, for displaying only the keyword positions for which your website was found on the second page of the search engine results list, and one for displaying the results that belong to a specific type (Image, Video, Organic etc.) when the selected search engine is Google Universal.
Ability for client users to generate quick reports
We introduced a new option which allows client users to generate quick reports. To grant your clients permission to generate reports, navigate to the Settings – Website settings – Website menu and select Everyone in the related drop-down list. This will tell the application that all users who have projects assigned to them can generate quick reports.
You can find more details about user management in AWR Cloud in this help section inside the application.
Note: quick reports generated by client users will be counted to your shared reports monthly quota.
Sign in with Facebook, Google + and Twitter
Starting from the new release, you can sign in AWR Cloud with your Facebook, Google + or Twitter accounts. To to this, click on the social button of the platform that you would like to use and further authorize AWR to access your account.
 Custom exports
Now you can export your keyword ranking data to CSV format only for specific projects that you select in the New export dialogue. This is achieved from the Settings – Website Settings – Export / Import menu.
New Google Places search engine
Starting from the new release, we introduced a new Google Places search engine which tracks and counts only the Places listings that Google blends with other types of results in Web search.
New Top Sites printable report
AWR Cloud also comes with a new section available for selection in the CSV printable reports. To see it in action, simply create a new CSV report from the Reports – Edit reports menu and add the Top Sites section.
Back to you
So, what do you think? Feel free to let us know your thoughts in the comments section below.
If you haven't tried AWR Cloud yet, you can easily Sign up and take advantage of the 30 day Free Trial.