According to data from the U.S. Census., 20 years ago (in 1991), U.S. start-ups per 100.000 individuals was about 185.6 businesses.
Now, start-ups per 100,000 people declined 29.3 percent, to 131.3 (for 2011, the most recent year of figures available).
Wait! What's all the "hub buzz" about start-ups and the success of tech about? Aren't entrepreneurs and digital start-ups performing well?
Yes, some are doing well, yet aside from targeting a consumer base and leveraging a respective sector, digital enterprises must face the demands of a "digital" business platform.
For example, 50 years ago, a tire supplier handled delivery logistics, employees, and the costs of rubber and associated materials. However, today's vendor of the same, must be concerned with search engine optimization, social media, and the essentials of digital existence – such as efficient web hosting.
Consider scenarios foreign to successful business owners of 50 years ago:
Websites, set to launch per marketing materials and press release, do so unsuccessfully, confusing browsers and potential clients.
A small business owner, leveraging limited funds best they can, must "share" hosting with others, using servers unable to handle peak traffic hours appropriately.
Old and out-of-date servers, lack of back-up servers, and weak security, pose risks to online presence and continuity.
The situations, all involving weak or ineffective web hosting, plague modern-day start-ups.
But, don't look so worried! There are ways to find a gracious and effective "host".
Tweets on the Street
The proverbial "grapevine" is a great place to hear if you've lost your love or if particular web hosting vendors have lost the love and respect of existing customers.
Assuming today's hosts are hip to social avenues of attention, conduct a search on Twitter, perusing through a particular vendors stream using AllMyTweets.
Modify the search to target personalities (rather than tweets about hosting) and seek local or global vendors as needed.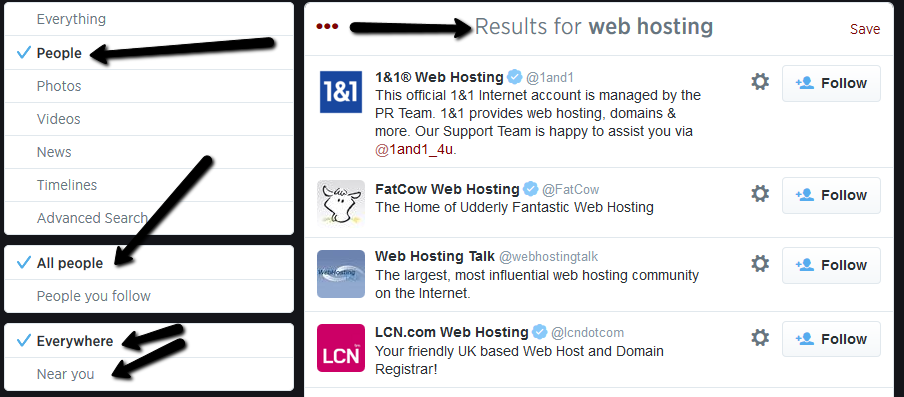 Let's use "FatCow" to milk AllMyTweets for what it's worth.
I've highlighted some troublesome sentiments in red, consumer issues in yellow, and highlighted a positive and consumer-offered compliment in green.
Of course, this is but a small window of opportunity regarding the respective Twitter handle and subsequent sentiments of consumer service in real-time.
Operator, Can You Connect Me?
To supplement social media, use search operators to reveal some passionate "opinions" about another vendor, HostGator:
Placing "HostGator" and "I hate" in quotes, we see related SERs.
Let's reverse the emotion, seeing who's got "love" for "HostGator"
Just as some say tomato and others say… (it doesn't work as well in print – does it?), SERs reflexive of negative and positive sentiments regarding the web hosting company exist.
Seeing is Believing in Web Hosting
I really like the question of the bottom SER: Can I see some of the websites you host?
Using free, online tool, Domaintools.com, anyone can see anyone's web host. Let's use a real-to-life example. A potential competitor of my site is Hostigal.com.
Perhaps, I want to know about my competition, like its web hosting company. That way, I can assess potential weaknesses or strengths following up with subsequent research of their web hosting service.
We see bits and pieces of hosting information related to the competitor. Perhaps I want to ensure that a competitor, using a good hosting service, does not have any advantage over my own site, or I want to tell if a site is using third-party DNS servers (Note that some online 'lookup' tools do not reveal third-party services.) If you look at the 'nameservers,' you can make an accurate assessment on the location of the servers.
(Lack of) Speed Kills (Sales)
Let's use another online tool to examine page speeds, also reflexive of web hosting efficiencies. Of course, one must consider additional factors as to why a page loads quickly or not (Internet connection, device, etc), yet checking a few sites related to a given web host can help determine the latter's efficiency.
Let's use a popular site to check page speed:
Google suggests that Moz.com "leverage browser caching", which could be addressed by web host. Google offers a few suggestions as well as additional online resources.
This may not be a "fault" of the web host, yet a proactive vendor would use Google Insights as an added concern. How your site responds is a reflection on them.
What's Up with Uptime?
"Uptime" is the amount of time a server is running consecutively without interruption. Look at a number of web hosting review sites and you'll find uptime to be of integral importance regarding sales and success.
If you think downtime is disastrous regarding immediate conversions, it may influence the authority of a site or pages as interpreted by Google and other major search engines as well. At most review sites, some consider it impressive to see mentions of 98% (or more) uptime. Obviously, we want to see 100% uptime, but things happen.
However, don't settle for less when shopping for hosting. A score of 98% on a mathematics test is impressive, yet let's do some calculations regarding 98% uptime.
Free, online tools like Uptimerobot.com, (free and paid with https://www.pingdom.com/) help scan uptime in a third-party capacity, ensuring your chosen web host is sincere with its promises of site functioning.
Revisiting Actions
Let's review actions we've learned regarding finding your next web hosting service:
Use social media to gain a sense of how a given vendor relates to clients and those interested
Leverage search operators to gain a broader perspective of how people feel about a given vendor
Exact lookup tools to find web hosting details of a particular site
Analyze page and site load times to optimize user experience and sales potential
Measure uptime to calculate the potential downtime risk involved in using a given vendor
Now, you're better prepared to find your respective "Prince Charming" of the hosting service world. Suiting a business-to-business need, a given vendor should be more than receptive to initial concerns, aspirations for growth, and expectations of quality.
Note: The opinions expressed in this article are the views of the author, and not necessarily the views of Caphyon, its staff, or its partners.